What Causes Teeth to Chip?
Chipping or cracking a tooth is not an uncommon occurrence and may be caused by a variety of habits, such as chewing harmful objects or eating hard foods. In some cases, an accident or trauma can lead to a chipped tooth. At our practice in Nashville, TN, Dr. Clint Newman offers several solutions to treat chipped teeth, including porcelain veneers, dental crowns, and dental bonding, all of which can be customized to provide exceptional aesthetics. Understanding what causes teeth to chip can help you avoid additional damage to your smile. We can offer suggestions on how to prevent future chips or cracks.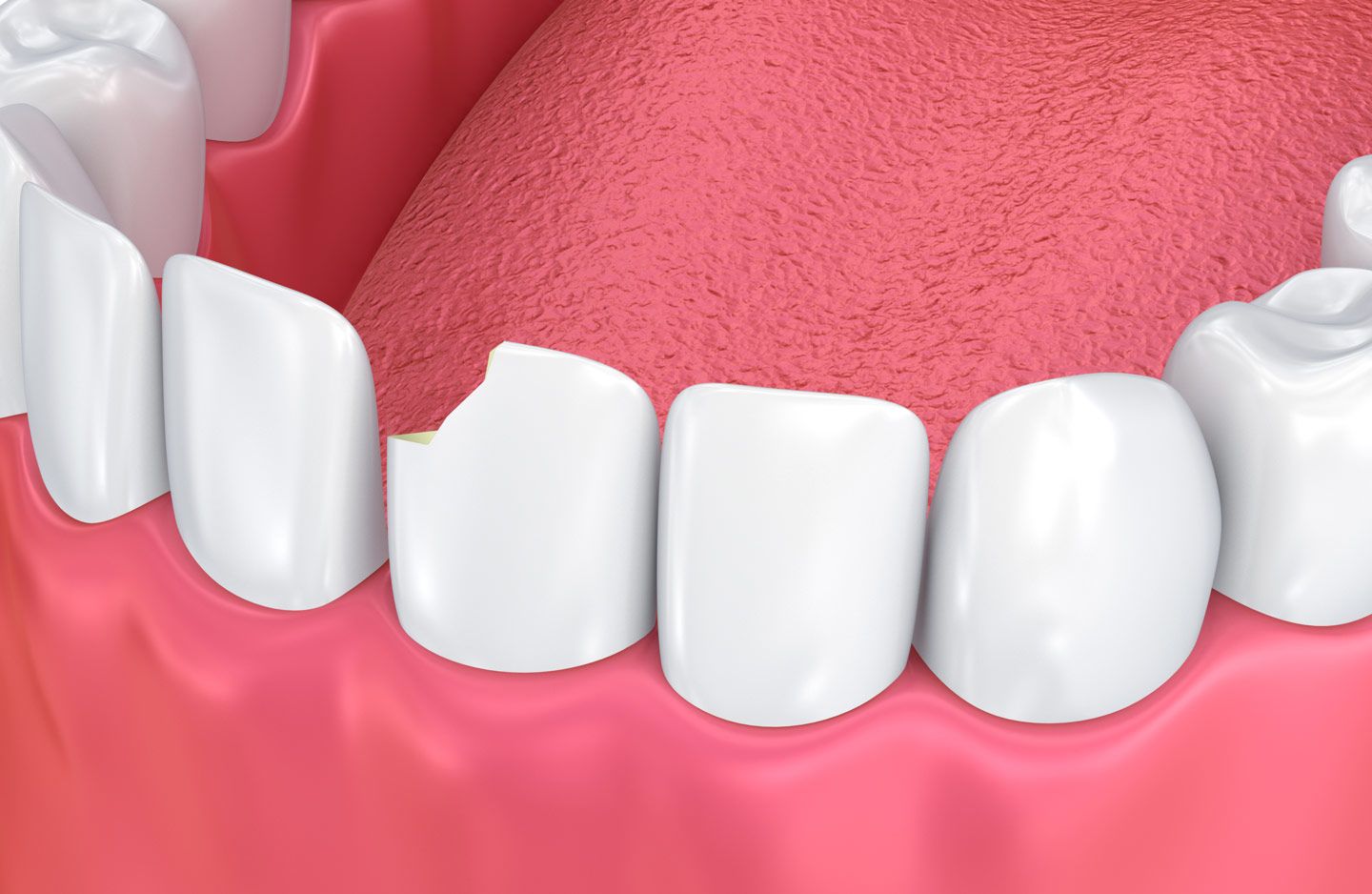 Common Causes of Chipped Teeth
Dental enamel is one of the hardest substances the body produces. However, it is not unbreakable. There are a variety of possible causes of chipped or cracked teeth, including:
Cavities
Imbalanced or misaligned bite
Trauma to the face or mouth
Poor dental hygiene
Tongue or cheek piercings
Chewing hard objects, such as ice or pens
Metal amalgam fillings
Excessive teeth grinding
Using your teeth as tools to open packages or perform other tasks can also lead to damage. In general, you should not chew or bite non-food objects.
Symptoms of Cracks or Chips
Unless the chip or crack is large, many patients do not experience any symptoms at all. However, you may notice increased tooth sensitivity to heat, cold, or pain while chewing. Some patients experience unpredictable tooth pain that comes and goes. Generally, any persistent tooth pain is a good reason to contact our office, since leaving a chipped or cracked tooth untreated can have serious consequences.
The sooner you treat a chipped or cracked tooth, the better it is for your oral health.
Why Is Treatment Important?
Anything that damages the outer layer of your tooth leaves your tooth vulnerable. The tooth's outer layer, known as enamel, protects the inner dentin from bacteria. When bacteria reaches the soft dentin layer, it begins eating away at the tissue, causing decay. Decay can lead to infection which, when left untreated, can cause tooth loss. The sooner you treat a chipped or cracked tooth, the better it is for your oral health.
Your Treatment Options
At our practice, we have several treatments that can address chips and cracks. The optimal treatment for you will depend on the extent of the damage to your tooth as well as the location of the tooth. You can discuss your concerns with Dr. Newman during an appointment and he will recommend the best treatment plan for you.
Porcelain Veneers
A porcelain veneer is a thin shell of dental ceramic placed over the front surface of your tooth to conceal chips, cracks, and other flaws. Dr. Newman can select a shade of porcelain that blends seamlessly with surrounding teeth for an attractive result.
Dental Crowns
Crowns cover the entire surface of your tooth for improved strength and integrity. Dr. Newman can create dental crowns from advanced materials for durable and cosmetically appealing results.
Dental Bonding
During dental bonding treatment, Dr. Newman applies a tooth-colored composite resin to the affected area of your tooth. He then sculpts the resin to strengthen your enamel and improve the aesthetics of the tooth.
How to Prevent Cracks and Chips
While damage to your teeth is not completely preventable, there are a variety of methods which can help minimize your risk. Patients should avoid chewing on hard foods and objects, such as ice, popcorn kernels, pens, and bottle caps. Individuals can wear a mouthguard while participating in sports. If you clench or grind your teeth, we can fabricate a bite guard to protect your teeth while you sleep. Regular visits to our office can also help prevent chips and cracks.
Protect Your Smile
When issues with your smile arise, it is important to deal with them quickly to protect your future oral health. If you are nervous about your treatment, we can discuss our sedation dentistry options with you, to ensure you are calm and comfortable during your procedure. For more information about treating chipped or cracked teeth, contact our office online today.