Cosmetic imperfections in your smile can cause self-consciousness and embarrassment.
A smile makeover by Dr. Clint Newman, DDS, at his practice in Nashville, TN, can address multiple cosmetic concerns in one treatment plan.
How can a smile makeover help you?
The Benefits
of a Smile Makeover
Increased Confidence
If you avoid taking pictures, speaking in public, or introducing yourself to new people because you are self-conscious about the appearance of your smile, a smile makeover can address your concerns and provide a boost in self-esteem.
A Platform for Excellent Oral Health
Some cosmetic concerns can lead to more than just surface-level concerns. For example, crooked teeth are more difficult to clean, which can lead to the buildup of harmful bacteria. By addressing cosmetic issues, a smile makeover can sometimes contribute to a healthier smile.
Personalized Care
Every smile makeover is uniquely designed for the individual patient's needs and goals. After you explain what you would like to achieve, your dentist can recommend a custom combination of treatments to give you the smile you have always wanted.
What Is a Smile Makeover?
A smile makeover is a custom-designed treatment plan that combines multiple cosmetic procedures to meet a patient's unique goals.
Elite Cosmetic Dentistry in Nashville
by Dr. Clint Newman, DDS
If you are looking for a capable and respected cosmetic dentist in Nashville, TN, look no further. Dr. Clint Newman is nationally renowned for his skill in cosmetic dentistry. He has been invited to share his expertise on television multiple times, and his impressive results have led the Tennessee Titans to designate him as their official dentist.
Because of his reputation as a leading cosmetic dentist, it is common for other doctors and plastic surgeons to refer their patients to Dr. Newman for their smile makeovers. If you are wondering what Dr. Newman can do to upgrade your smile, we invite you to contact our practice today.
I've been a patient of Dr Newman's for about18 years. Hands down he's the best. He restored my smile and I can't thank him enough!

View On Google
Dr. Newman and his team are the best in Nashville hands down! Whether you're going in for a general clean or cosmetic work you'll be treated with the best care and happy with your results.

View On Google
Schedule a Consultation Today
Do you ever wonder how you might look with an entirely new smile? If you have issues with the appearance of your smile, we invite you to schedule a smile makeover consultation at the Nashville, TN, office of Dr. Clint Newman today.
During a consultation, Dr. Newman will explain how a smile makeover can help you look and feel your absolute best. He will examine your teeth and gums, and he will ask questions about your cosmetic goals. Based on this information, he will be able to describe the personalized treatment plan he believes will produce the best results.
To schedule a consultation and begin your journey towards a healthy, confident smile, fill out our online form or call
(615) 385-3507
What Can a Smile Makeover Address?
Discolored Teeth
For teeth that are stained or discolored, our dentist can perform teeth whitening treatments or apply porcelain veneers.
Crooked Teeth
Crooked, overlapping, or gapped teeth can be aligned with orthodontics, Invisalign®, or improved with porcelain veneers.
Broken Teeth
Our dentist can use dental bonding to repair a broken or chipped tooth, or he can cover the tooth with a porcelain veneer.
Missing Teeth
Our dentist can restore a single missing tooth or multiple missing teeth with dental implants, bridges, partial dentures, or full dentures.
Gummy Smiles
For patients with "gummy" smiles or uneven gum lines, our dentist can perform gum contouring for an aesthetically pleasing smile.
What Procedures Can Be Included?
Because a smile makeover is a custom-made treatment plan, every makeover includes its own unique combination of cosmetic procedures. At his dental practice in Nashville, TN, Dr. Clint Newman uses the most modern techniques and technologies to create beautiful smiles for his patients. When he is designing a cosmetic treatment plan, some of the procedures he may choose to implement include:
Veneers are extremely thin, ceramic shells that a dentist attaches to the front of chipped, discolored, or mildly misaligned teeth, obscuring imperfections. Dr. Newman is a major advocate for veneers. In fact, he is known in Nashville as a Master of Porcelain Veneers. All veneers used by Dr. Newman are highly durable and near-perfectly resemble natural teeth.
Dental crowns are tooth-like caps that can cover a damaged tooth or replace a single missing tooth. Traditional dental bridges are prosthetic teeth that restore two or three adjacent missing teeth, while dentures can be used to restore several missing teeth or a full arch. While these procedures are considered restorative dentistry, they can be made part of a smile makeover to improve function and aesthetics.
For patients with missing teeth, Dr. Newman will usually recommend placing a dental implant. Dental implants are titanium devices that replace tooth roots and fuse with the jawbone. They provide support for crowns, bridges, and dentures. With proper care, they can last a lifetime. Dr. Newman places and restores implants at our office in Nashville, TN.
Teeth can become stained or discolored for a variety of reasons. To help patients achieve brighter smiles, Dr. Newman provides both in-office and take-home teeth whitening services.
Invisalign
Even slightly crooked teeth can compromise the look of your smile. Traditional orthodontics like braces can straighten teeth, but many patients are reluctant to wear bulky metal braces for a year or more. Fortunately, modern cosmetic dentistry has provided us with Invisalign, a discreet and effective system for straightening teeth.
Dental bonding is a conservative, affordable, and immediate solution for chipped, broken, or otherwise imperfect teeth. Bonding involves applying an advanced dental resin to the teeth that can be shaped and colored to fill any chips or gaps in the smile.
Metal fillings can make your smile look unhealthy. Dr. Newman can replace your metal fillings with tooth-colored composite so that the filling blends with your tooth. Besides being more aesthetically pleasing, composite fillings are also safer and better for your health.
"Looks Better Now than Before"
Clint is great! He bonded a chipped tooth for me that looks better now than before I chipped it. Incredible team around him as well.

Beau Fowler - 5-Star Google Review - 2019
Because every smile makeover is unique, the cost will vary from case to case. The most involved smile makeovers can cost thousands of dollars, while treatment plans that only include a few procedures are much less. When Dr. Newman presents his personalized plan to you during a consultation, he will explain the cost of each individual procedure. Factors that can affect the cost of dentistry include:
The number of treatments
The use of sedation
The extent of preparatory dentistry required
The materials used to fabricate crowns, veneers, etc.
During your smile makeover consultation, we can also explain financing options that= make cosmetic dentistry a comfortable fit for most budgets.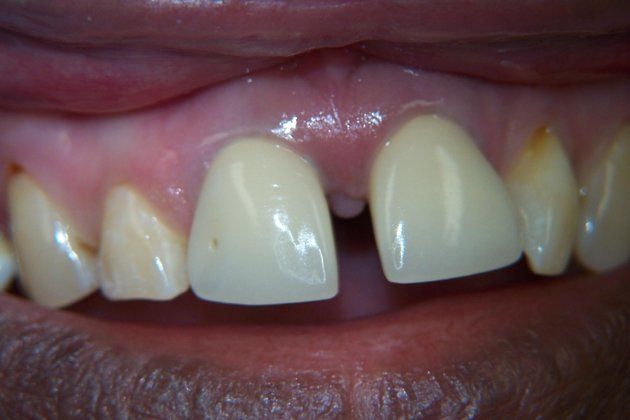 Discover
What This Treatment Can Do for You
For cosmetic dentist Clint Newman, there's no such thing as a smile that cannot be enhanced with modern treatment. If you have lost hope, we encourage you to schedule a consultation at our dental boutique in Nashville, TN, today. Dr. Newman can examine your case and provide information on how he can help you achieve an unforgettable smile.
Patients love coming to our welcoming and stylish Nashville office. Every aspect of our clinic is ultra-modern, and we use advanced technology to deliver top-tier dentistry in the most comfortable environment possible. If dentistry happens to make you nervous, we offer dental sedation to help you remain comfortable and relaxed.
To schedule a consultation with Dr. Clint Newman, fill out our online form or call
(615) 385-3507
I found Dr. Newman through a google search as I was looking for a great dentist in the area. I visited numerous sites but what grabbed my attention was his amazing website. I booked my first appointment through a live chat that eliminated the hassle of trying to get someone on the phone. Knowing that I needed extensive dental work, I wanted the best and that's exactly what I've gotten here. Dr. Newman and the entire staff have been a blessing, and I have no hesitation in recommending their services to anyone.

View On Google
I've been a patient of Dr. Clint Newman for greater than 5 years. He is excellent with veneers and other cosmetic dentistry. I went to him after another dentist put in veneers and bridges that just kept coming lose. So I did my research and Dr. Newman did an excellent job in making the corrections. He had to undo the previous dentist wack job in order to make the corrections. It's been 5 or 6 years and my veneers or bridge have not loosened or come out. Not only is he an excellent dentist, but has a well-mannered staff, comfortable office, and you will be seen without a long wait. I would highly recommend Dr. Newman.

View On Google