Dramatic Smile Makeovers: Before and After
A smile makeover can provide life-changing results. Dr. Clint Newman has helped many patients achieve dramatic transformations through individualized smile makeover treatments. Our smile makeover before and after images feature actual patients who enhanced their smiles at our Nashville, TN, office. The photos illustrate the exceptional results that can be achieved when addressing insecurities, poor-quality dental work, and severe imperfections.
The Benefits of a Smile Makeover
When performed by an experienced cosmetic dentist, a smile makeover can rejuvenate your smile and provide dramatic improvements for a range of issues. Whether your smile is affected by age-related changes, natural defects, or previous unsatisfactory dental work, a personalized smile makeover treatment plan from Dr. Newman can transform your appearance. He has the skills, experience, and training to enhance your smile while also providing a natural-looking result.
The Collaborative Design Process
The first step in achieving your smile goals is a consultation with Dr. Newman. During your smile design appointment, Dr. Newman will examine your teeth and gums for any oral health concerns. You can discuss your goals and concerns, and he can explain the cosmetic and restorative procedures available to enhance your smile. You will then work together to create a treatment plan tailored to fit your needs.
Dr. Newman has the skills, experience, and training to enhance your smile while also providing a natural-looking result.
Restore Function and Aesthetics
In some cases, the concerns with your smile may go beyond cosmetic issues. Wear, breakage, and other conditions can also affect the function of your smile. Using porcelain crowns, Dr. Newman can restore the chewing surfaces of your teeth as well as improve their appearance. Dental crowns cover the entire structure of your tooth. Therefore, they can conceal flaws as well as improve the integrity of a tooth.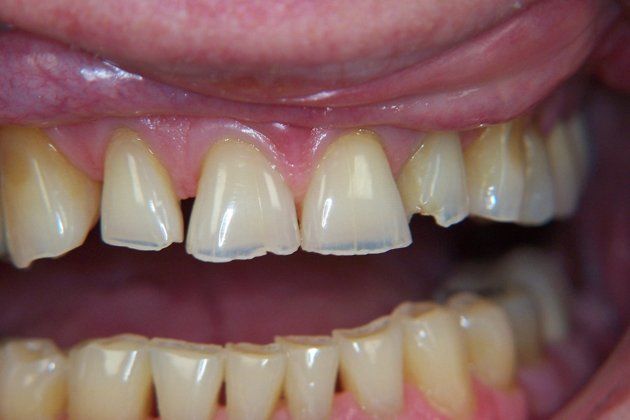 In the example above, Dr. Newman placed dental crowns on the front teeth. These high-quality crowns blend seamlessly with the surrounding teeth for a natural-looking result. In addition, the crowns restored the height of the patient's teeth for improved function. By undergoing a smile makeover, this patient was able to achieve a stronger, more attractive smile.
Combine Multiple Treatments
For some patients, a single type of restoration is not sufficient to achieve the desired results. In these cases, Dr. Newman can select the appropriate restoration for each issue and carefully combine them to provide natural-looking effects. He often uses porcelain veneers and dental crowns together to create an attractive, symmetrical smile.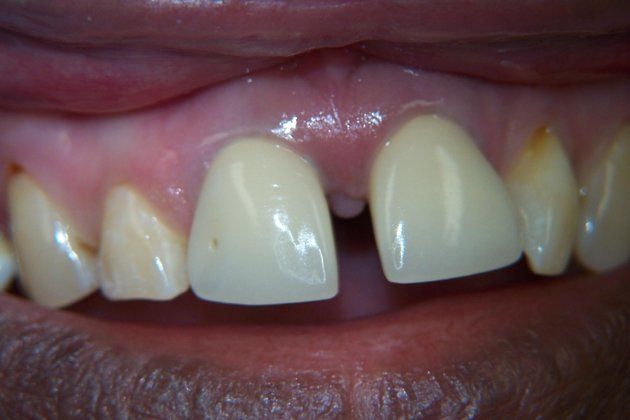 In the case of the patient featured above, there was a large gap between the two front teeth and the surrounding teeth were discolored. The patient wanted to enhance the appearance of all eight front teeth. Dr. Newman replaced the two front teeth with all-porcelain, IPS e.max® crowns. Then, using IPS e.max® veneers, he covered the remaining six teeth for a unified look.
Advanced, High-quality Materials
When it comes to creating natural-looking restorations, using the right material is crucial. Many dentists use inexpensive materials which do not fully mimic the qualities of natural teeth. In his smile makeovers, Dr. Newman uses advanced, cutting-edge materials, such as IPS e.max® and Empress® to create aesthetically-pleasing, lifelike results.
The patient pictured above had an existing dental bridge, a single crown supported by a dental implant, and veneers. Changes in their mouth combined with lower-quality materials created an unnatural look. By replacing their restorations with new IPS e.max® porcelain, Dr. Newman crafted a uniform, symmetrical smile for lifelike results.
Committed to Excellence
Dr. Newman and our team are dedicated to improving the aesthetics of our patients' smiles. We offer a wide range of cosmetic procedures and can combine them into a unique smile makeover plan for dramatic results. For more information about smile makeovers and the other services we offer, contact our office online today. You can also view more of our smile makeover results in our photo gallery.